Early Years
Devastating fires in 1903 and 1908 destroyed over 464,180 and 368,000 acres of land in the Adirondack Mountains respectively — that is over 13% of today's park.  Shown is a photo from 1908 taken after a fire on St. Regis Mountain.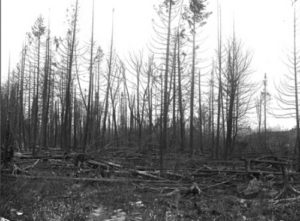 In April 1910, an observer was stationed on St. Regis Mountain.  Because of fires atop the mountain (and associated erosion), no tower was needed.
Five letters that provide some insight into the establishment of this station date back to February 24, 1910, March 15, 1910, March 17, 1910, June 28, 1916 and in July 3, 1916. During this first year of use three miles of telephone line were constructed so that the observer could quickly report fires spotted to the local forest ranger. There is no evidence that a tower was ever built on St. Regis until 1918, when the Conservation Commission erected a 35′ Aermotor LS40 steel tower that still remains there today.
First Tower Observer
George F. Brown was assigned as the first observer on St. Regis Mountain.  In his first year he reported 55 fires, of which a few were dangerous. On the afternoon of May 31, 1915, a small fire, that was probably left by fishermen in the town of Santa Clara, was fanned by swift winds. The fire destroyed 1,550 acres of state land, most of which had been burned from a previous fire.
By 1916 each observation station included a cabin for the comfort of the observer. Previously, most were provided only tents for shelter. These original cabins were usually constructed of logs cut on site. Most were small and less than ideal. In the early 20's a standard design would be developed.
Tower Technology
In 1919, a "device known as the Osborne Fire Finder" was developed by the US Forest Service. By means of this type of alidade (a mapping instrument used for determining directions), a panoramic map of the territory visible from a mountain station could be developed. This made it possible for an inexperienced observer to locate fires more accurately than with ordinary topographic maps. One of the new fire finders was purchased and tried out at Poke-O-Moonshine during the year and a map made according to the Conservation Commission.
A panoramic map and table were installed on St. Regis in that same year to aid the observer in locating fires. This was a circular map with a panoramic sketch of the surrounding vista around the outside edge. The inner portion was a topographic map with the tower location in the center. A sighting device called an "alidade" pivoted on a pin in the center of the map. Along the outer edge of the topographic map portion are azimuths that could be easily read by the observer once the alidade was sited on a possible fire and reported to the local forest ranger.
During the 1930's the Conservation Department began to experiment with two way radios to improve communications between its fire towers and forest rangers.
The Cabin
The first standard design for observer cabins was developed in 1922, mandating that they be 12′ x 16′ in size and roofed and sided with asphalt shingles. These consisted of a small living area, and even smaller bedroom and a pantry. A cabin of this design was erected in 1925 though, to date, there are no pictures existing of it.
Because of the cramped conditions in these earlier cabins, a new design was adopted in 1936. It increased the size to 16′ x 20′ with a 7′ porch. These had waney edge pine siding, pine board interior and a large fire place.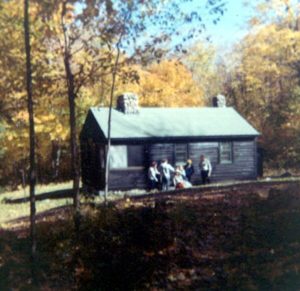 80 Years of Continuous Use
St. Regis Mountain was staffed continuously from April 1910 through 1990 making it not only the longest operating fire tower in the Adirondack Mountains, but the longest operating fire tower in the State of New York.  Unfortunately for the towers, newer technologies were cheaper and better at spotting fires. In the last years of operation, the percentage of fires reported by fire tower observers dwindled to a mere 4% of all fires reported.
In 1988, the Department of Environmental Conservation concluded that towers were no longer effective and decided to phase them out of service. The 1989 plans called for staffing six to eight of the thirty one towers staffed in 1988. Finally in 1990, the last of the operating fire towers in New York State – including St. Regis – were closed. This brought to an end an era of organized and systematic forest fire detection that lasted 82 years.
The Tower Today
Following abandonment by the Department of Environmental Conservation in 1990, the tower began to deteriorate. Eventually the structure became unsafe, and the lower stairs were removed to prevent public access.
At this same time, grass-roots movements sprung up among locals and visitors to save the St. Regis Mountain fire tower, as well as other fires towers throughout the Adirondacks. The St. Regis fire tower faced additional road blocks regarding governmental regulations. St Regis Mountain is in the St. Regis Canoe Area, a land use designation in which fire towers are considered non-conforming structures.. Therefore, the fire tower was slated for removal.
Through many years of effort by friends of the fire tower, the APA approved a 0.5-acre parcel surrounding the tower to be the Saint Regis Mountain Fire Tower Historic Area (SRMFTHA), and thus removing the tower's non-conforming status and preventing its removal. As of March 2005, the St. Regis Mountain Fire Tower is listed on the National Historic Lookout Register.
The Friends of St. Regis Mountain Fire Tower were officially organized in May 2013. They entered a Volunteer Service Agreement (VSA) with the New York State Department of Environmental Conservation (DEC) in January 2015. Shortly thereafter, the Friends partnered with Adirondack Architectural Heritage  (AARCH), a 501(c)3 organization to facilitate this project. In March 2016, the Friends were incorporated and became a 501(c)3 organization.  The Friends of St. Regis Mountain Fire Tower have worked with the state to restore the tower for public access.   The tower opened for public use on September 1, 2016. For the whole exciting process, see the http://www.friendsofstregis.org/restoration/