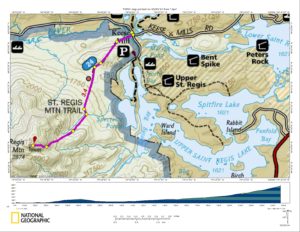 Directions:  From Paul Smith's, NY, Turn LEFT from NYS Route 30 onto Keese Mills Road.  Keese Mills Rd is approximately 100 feet North of the main entrance to Paul Smith's College. The College is located at the intersection of NYS Route 86 and NYS Route 30, in Paul Smiths, N.Y. The trailhead is 2 miles on the left  in Keese Mills.
     Click here for:  Google Map, here for Google view and here for the weather on the mountain.The 2874 foot Saint Regis Mountain is located in Franklin County at the center of the Saint Regis Canoe Area in the Adirondacks. It is part of the ADK Fire Tower Challenge as well as the Saranac Lake 6er challenge.
The DEC trail register where the footpath starts is at GPS Coordinates 44 deg. 25.85′ N – 74 deg. 17.95′ W.The trail is a gradual 3.3 mile ascent to the summit. This moderate hike has an overall elevation gain of 1,260 feet. It maintains a moderate grade until the last .3 where some steep sections are encountered, but nothing too difficult and no challenging scrambles. The trail is in great shape, and in some places has well maintained stone steps and other helping features.
Cold weather conditions of ice and snow on the upper sections of the trail can exist from mid October to mid May; the use of traction devises is highly recommended when the trail is covered by ice and snow.
Since the summit is bare rock, the views from the summit are spectacular. The view includes thirty lakes, including the Upper and Lower Saranac Lake, and Upper and Lower Saint Regis Lake. The high peaks can also be seen from the summit.